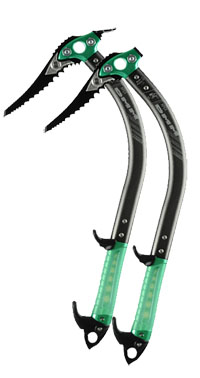 rig for ice, mixed or alpine!


DMM APEX
New for 2013 - the APEX is top choice for steep ice, mixed or alpine. Well balanced, fantastic clearance and customizable to both your style and that of the route. From the top down - one piece T Rated APEX PICK is fitted with either hammer or adze and equipped with removable weights - to add or subtract 1.6 oz / 45 g per tool. Weights on for ice, weights off for delicate dry tooling. This assembly is secured with two hex head bolts in the vice-like aluminum "jaw". As radical as the APEX's shaft looks, you'll appreciate less wrist strain (due to a more neutral position), ease of handling and greater "reach" over and around obstructions (less wobble on mixed placements too). Down below are two bolted on HAND RESTS and a sticky hand grip (practically all the comforts of home). For mountain routes with snow approaches, leave the RESTS behind so you can plunge the shaft in deep for support and psychological protection. Made in Wales.

Save on a pair... or add crampons and deduct 10% Package Deal; Super charge with 6 ice screws and lop 15% off individual prices.
APEX - w/ HAMMER or ADZE
length: 50 cm
wt: Adze 24.8 oz (700 g - w/ wts)
wt: Ham 24 oz (680 g - w/ wts)
color: gray / ice green
price: $239.95 ea
sale / $384.88 pair

SPARE ICE PICK/ADZE
price: $49.95
SPARE ICE PICK/HAMMER
price: $49.95
CHOKEHOLD LEASH
price: $31.95
FREEDOM LEASH w/ 2 Phantom biners
price: $47.95
FREEDOM LEASH
price: $26.95
TOP HAND REST
price: $15.95
BOTTOM HAND REST
price: $15.95
ICE AXE SHEATH
price: $11.95