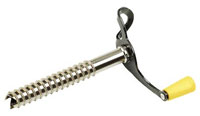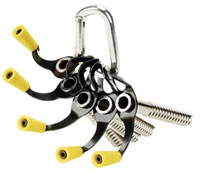 HELIX racks sweet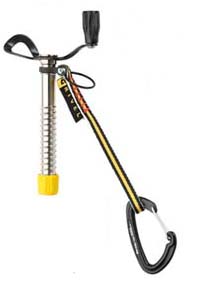 SPEEDY
w/15cm sling & biner
(now equipped with wire gate)


GRIVEL
HELIX ICE SCREW
Simple design of the HELIX's fixed crank handle makes super fast placements easy. Grab the screw's head, press and turn clockwise to engage teeth with the ice, then spin the rest of the way in. Crank arm will shave some loose surface ice off while seating hanger against the ice surface - for maximum strength placement. 3 sizes by popular demand. When carried on racking biner, ICE CLIPPER or CARITOOL, HELIX screws hang flat along your side, angled down and to the rear. Each screw comes equipped with it's own "BLACK HOLE" (plastic tooth protector) that screws on (so you won't loose it) and can be "stored" on the crank handle (improving diameter and grip) while climbing.
| | | | | |
| --- | --- | --- | --- | --- |
| size: | wt | color | price | SAVE 5+ |
| 11 cm | 5.5 oz | red | $59.95 | $53.95 |
| 15 cm | 6.4 oz | black | $59.95 | $53.95 |
| 20 cm | 7.2 oz | yellow | $59.95 | $53.95 |



GRIVEL
SPEEDY ICE SCREW

The SPEEDY is a brilliant upgrade that cures "leader panic" by making easy ice screw placement on the fly . Simplify rigging and reduce the time til your clipped and "on belay" with this special hybrid HELIX that is equipped with a rotating metal collar, a 20 cm (7 3/4") and easy clipping curved key lock biner. The SPEEDY can be placed or removed while clipped to the rope - which prevents loss and hastens your attachment to the ice. It's metal collar can be positioned close to the ice for shallow placements and lower leverage plus the biner is oriented at 90 degrees for less drag. In the event of a fall, the SPEEDY's metal eye cams onto the tube and stops the draw from slipping up the tube. This sure fire combo is 15% lighter than using a separate quickdraw and can be easily racked on your harness.
| | | | | |
| --- | --- | --- | --- | --- |
| size: | wt | color | price | SAVE 5+ |
| 11 cm-w/SPEEDY | 8.2 oz | red | $84.95 | $76.45 |
| 15 cm-w/SPEEDY | 9.1 oz | black | $84.95 | $76.45 |
| 20 cm-w/SPEEDY | 9.9 oz | yellow | $84.95 | $76.45 |
| Accessories | | | | |
| EXPRESSO - 2pack | ice screw carrier | black | $32.60 | $28.44 |
| PAN-PIPE - carrier | holds & protects 5 ice screws, carry on waist or shoulder | black | $90.80 | $81.72 |
| | |
| --- | --- |
| | |
| Expresso - 2 pk $32.60 | PanPipe - Quiver $90.80 |