NEUTRINO
RACKPACK $39.95
OZ RACKPACK $52.95
.com, 4CU, 4cams,


Black Diamond
CAMALOTS X4

The Black Diamond CAMALOT X4 combines several feature improvements in one smart package. Look forward to adding X4's to your "thin crack rack" and instantly benefit from greater expansion range, single-stem flexibility and a narrow head - to fit into the most challenging placements.
# .1 to .3 feature BD's machined single Stacked Axle Technology with offset rotational centers (think crankshaft) to give more expansion range per size than any small 4 cam unit. #.4-.75 feature BD's tried and true CAMALOT double axle design and all sizes make pluggin' pro into small cracks easy and immediate!
Check out the super-durable aluminum beads - from forged trigger to head piece - designed to withstand repeated abrasion, protect the underlying cable and flex equally in all directions. Also the X4's embedded cam springs keep the head width narrow to further aid placement in tight spaces. Bonus: 6 sizes of the X4's cover the same range as 8 sizes of comparable sized cams. Don't forget to order color coded carabiner rack packs. Made in China.



no

size-range

size-range

wt

width

strength

color

price

inches

millimeters

gm

mm

kN

lbf

0.1

.33-.54

8.4-13.8

51

29.9

5

1124

red

74.95

0.2

.39-.65

9.9-16.5

54

29.9

6

1349

yellow

74.95

0.3

.49-.83

12.4 -21.2

75

33.6

8

1798

blue

74.95

0.4

.61-1.05

15.5-26.6

82

32.8

9

2023

gray

74.95

0.5

.78-1.33

19.8-33.7

91

33.7

9

2023

purple

74.95

0.75

.94-1.62

24.0-41.2

112

38.4

9

2023

green

74.95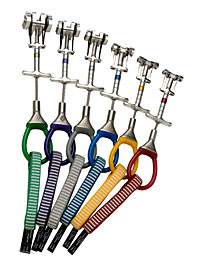 easy grab thumb-loop