THIRD PAIR... TAKE CARE.
Congratulations, if you made it this far, you've got a couple of favorite shoes, tons of good climbing under your belt and probably are in search of a more technical shoe or slipper. When it's time to boost your footwork's performance and power - give us a call. We can "translate" your fit and sizing needs from brand to brand and model to model - to help you get equipped to up your climbing!
Remember, if you take care of your shoes they will provide good performance and value. How long they last is a function of how much you climb, your technique and the care you give them. Here are some tips to help you get the most from your new shoes:
1. Always air out your shoes after a day's climbing - don't leave them crammed into your pack.
2. Store shoes out of direct sunlight and extreme heat (never in the back window or trunk of your car).
3. Keep your shoes clean and dry. If shoes become excessively soiled or muddy they can be scrubbed inside and out with mild soap and water then air dried in the shade (do not use chemicals which can destroy rubber, leather & glue).
4. Brush sole clean (or spit and rub) before bustin' the moves on the next route. This will give you maximum sticktion.
5. Keep shoes out of the dirt - use a square of carpet or rope tarp as your "launching pad".
6. When planning for a resole, don't let the soles or rands wear through before
sending them in. It makes the job more difficult, more costly and in the case of slippers - sometimes not practical. Be sure to order another pair - well in advance - so that you can still climb while your "old favorites" are at the resolers for a week or three! home - rock shoes
SINCE 1980 - GUARANTEED FIT!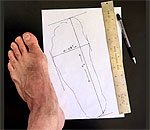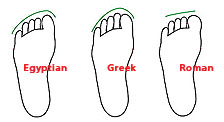 All feet differ in size and shape (even left and right)! All rock shoes are built on specific forms (called lasts) providing a unique shape (curve, camber, volume & sole profile) to provide the the best performance in their category. We can help optimize your climbing by confirming your shoe choice (or recommending another) based decades of experience and satisfied customers.
CLICK HERE FOR MORE INFORMATION