Last Saturday we did a route "The No Reverse 360 Traverse" inspired by and in honor of Alex Lowe. My friend Chris Miller & I dreamed it up at the last moment (2 days after Alex was killed and a day before departing).

Our route was a link-up of a couple of popular Sierra summits and several ridges - a real stretch of the legs and something just beyond comfortable - things Alex would like: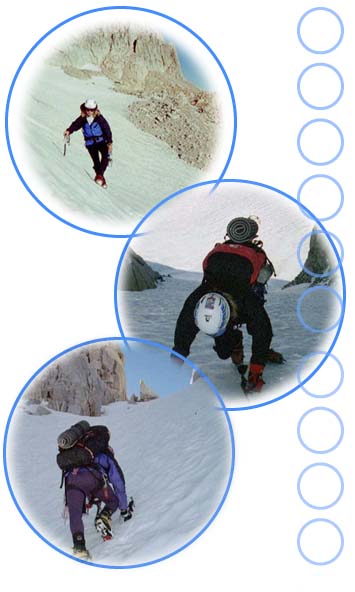 After a 5 +hour drive to the Saddlebag Lake, we hit the trail at 1am and hiked to the toe of the glacier. Although a moon-less night our navigation was spot on - luck was with us. After a couple of hours of restless sleep we were treated to a brilliant sunrise and perfect, clear, windless weather. A quick brew and snack and we wer off - at 6am we put our crampons on and crossed the glacier, then climbed 700 ft of perfect 40-50 degree alpine ice and on to easy rock directly to the summit.
Tough choice next... but we made the right call - on to the North Ridge of Conness! After descending 2000 ft and before beginning the Ridge, we took time out to melt snow (from last Wednesday's storm) and tank up. Perfect little caches of soon-to-be liquid - what luck. The North Ridge is straightforward - a couple of miles of 5.easy, a bouldering move now and again and 2 rappels. Wearing mountain boots added to the excitement now and again (we opted to leave the rock shoes behind to save weight....besides changing shoes would have felt like cheating anyway). The views were always excellent - in all directions! Ritter, Banner, Starr King, Quarter Domes, Half Dome, Cathedral, Matterhorn, Dana, Gibbs, and all the lesser (greater?!) peaks in between. Heaven. Places I know, places I've been before, memories of climbs past. Each one with a story worth listening to, time and time again. At one point we led a pitch directly on the ridge line only to be cul de sac'd by a wide impassable window and a drop of at least a thousand feet to the glacier below. After some bit of struggle getting there I started laughing - now down climbing and reversing delicate moves with a 25 lb pack - I had forgotten how much fun mountaineering really is! This is real climbing.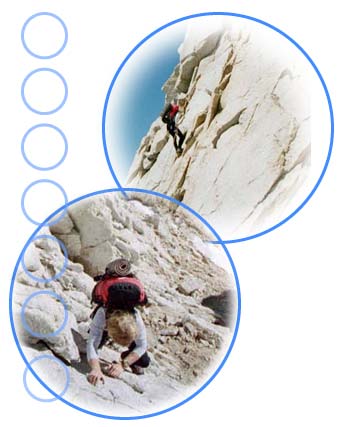 Totally parched, slightly cramping (and psyched) we landed on the summit of Conness, right on time, only to be greeted by two hiking parties (they thought we must be aliens). You know the drill: "Where did you come from?" (Outer Space). "How did you get here?" (Space Ship). While the rest did what summiteers do, Chris & I settled down to the business of brewing up - Peet's (a favorite of Alex's), hot chocolate, other goodies and a change of socks - ready for the next stretch of the legs. The stove really saved our butts - hauling enough water for this tall day would have been out of the question.
After an hour of lounging on the summit and debating our original intention of descending/ascending the East Ridge we decided that we had enough up/down roller-coaster climbing for the day and would settle for the longer (but more) generally Downward Bound line of descent. To the Car! Pale Ale! Mexican Food! These were our battle cries. Visions of heaping plates of Nachos, steaming Burritos and more. Hedonistic pleasures were calling to us and we were prepared to answer.
Soon we established our running rhythm and had overtaken the earthlings ("Where did you guys come from?") who were now in some sort of pain and swearing at each frozen foot hold. We figured they'd make it back around mid-night. Maybe. Soon Quiet Returned and the thoughts and experiences of the day kept us company on the long hike down and then back up to our starting point.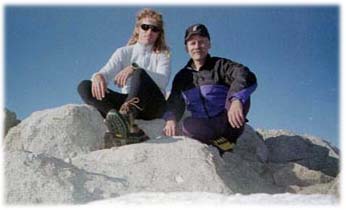 Life. A Full Circle. Stretching things a bit. Just like Alex. The No Reverse 360 Traverse.

Personel: Larry Arthur, Chris Miller
Stats: October 9, 1999, 01:00 - 19:00, 18 hrs total (including 4hr bivy).
9,200 ft vert., 11+ miles. Summits: North Peak 12,242 ft, Mt. Conness
12,590 ft

The After Climb: We toasted (got toasted) at The Tiger with Mammoth Micro Brew, ate Mexican (our visions were confirmed), crashed at Bachar Boulders (Chris was amazing and could still drive), then ran up West Crack the next morning (to stretch our muscles a bit)...in shorts and T-Shirt!
---
Home
MOUNTAIN TOOLS P.O. Box 222295 Carmel, CA 93922
ph:831 620-0911 fx:831 620-0977