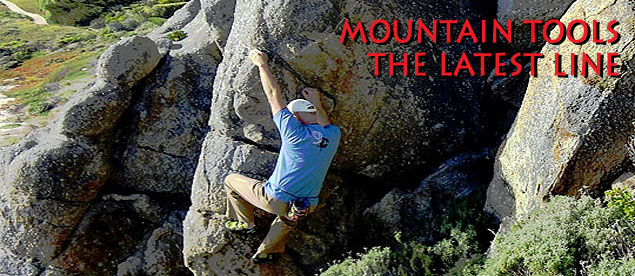 MOUNTAIN TOOLS The Latest Line - Summer Solstice Sale
WE'VE SUPPORTED OUR CLIMBING FRIENDS with Direct-to-Your-Door Delivery, Service & Support since 1980.

Additional Protocols & Procedures are in palace to assure safe handling for all inbound packages... and we use FRESH boxes and minimal packing materials for all outbound orders. Our team is planning to stay healthy by following California State guidelines for Social Distancing (SD), Washing Hands Often (WHO) & Wearing Face Masks (WFM). We encourage you to do the same!


GRAB A NEW ROPE WITH SPECIAL SAVINGS - up to 30% OFF thru 7/30 - Check in with us for BEST SELECTION and SUPER SAVINGS on select BlueWater ICON, WAVE & ELIMINATOR, Petzl VOLTA & ARIAL and Sterling HELIX & VELOCITY ropes. These popular models won't last long so call us today!

NOW'S THE TIME -

while waiting for travel restrictions

to ease and Parks & crags to reopen, stay fit, keep healthy and sort, clean & ready your gear. If your rope, harness, cams and runners are over 5 years old, consider upgrading or sending your cams in to our RESLING SERVICE for new color coded 10 mm Dyneema sling (DMM) or 15 mm Nylon or 12 mm Ultratape sling (other brands).
THERE'S A DEAL FOR EVERYONE with SAVINGS of 20% - 70%!
Take a moment to shop One-Of-A-Kinds, Style Changes, End of Series or Closeouts - you'll be sure to find great deals by scrolling thru our SALE inventory lists. See individual product pages for details, use SALE PRICES.
SUMMER SOLSTICE SALE & 2020 FOOTWEAR SALE !
WE SET THE STANDARD AND LEAD THE PACK BY ACKNOWLEDGING

our loyal customer's ordering efficiency with Set Discounts, Quantity Pricing & Combo Offers. Extra Discounts for individual items allowed for AAC, AF & SAR Members, NPS employees, Military and 1st Responders. Must mention when placing your order. Thanks for being part of our Climb-unity!

SHOP OVER 100 INNOVATIVE MOUNTAIN TOOLS PRODUCTS born from 40 years of climbing, guiding and rescue experience. Our design philosophy is all gear is mission critical, needs to increase climbing efficiency and is constructed with both accuracy and redundancy. Check out our Webolette (at left), Jet Pack, Stealth Pack, SlipStream Pack, Lazy Dazy, Speed Silng, Max Rack, SuperGaiters - to name a few. Have a Question?
Ask the Toolman! or Call 800 5.10 -2- 5.14 - Get it? Got it? Use it!
Check back often for Tech Tips, Product Updates & Sales Announcements!