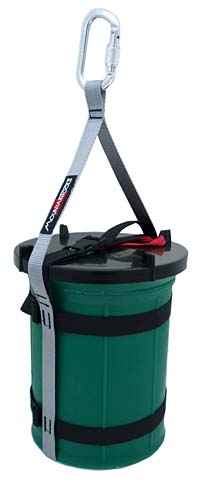 lid has retaining strap
(biner NIC)
STATS:
dims: 9.75"OD x 12" tall
wt: 1kg (2.2 lb)
top opening: (8.0")
tank: rotational molded polyethylene, wall thickness .125"
cap: polypropylene screw type,
w/seal and leash
vent: pressure relief type - 1.5 psi
capacity: 431 cu in (1.86 gal)
user days: 18-20
haul cradle: 1" flat web
price: $84


MOUNTAIN TOOLS
BIG WALL CAN
The Leave No Trace® wilderness ethic suggests we take every action possible to reduce our impacts on the environment over which we travel. What to do with human waste is always a concern. Rock climbers and big wall climbers have practiced pack it in, pack it up & out for years. This is a requirement in Yosemite!
The BIG WALL CAN is an adaptation of the Clean Mountain Can sponsored by the American Alpine Club and The Access Fund originally used in Denali N.P. It is washable and reusable as defined by the Bureau of Land Management, National Park Service and National Forest Service. Most importantly, it is light weight (just over 2 lbs!) and easy to pack or haul. There are two options for use:
Manufacturers Suggested Use - Unscrew the lid, hover and do your business - this requires a rock ledge or portaledge (do-able) and mad balance skills. In all cases be sure to keep yourself and the BWC on belay! The result of several days "deposits" is a slurry of waste that can be emptied directly into flush toilets, pit toilets or RV Sanitary Stations (located near Upper Pines C.G. in Yosemite). Various organic and chemical additives are commercially available to accelerate biodegradation and reduce odor. Add a small amount if you wish before the start of your climb. See Yosemite N.P Climbing Regulations for this and other useful details.
Traditional Big Wall Use - Most climbers will want to do "number two" in a small brown paper bag (degradeable) then roll it up and place in the Big Wall Can for transport. Bags can be pre-rigged and stashed with a small handful of kitty litter to cut the smell and absorb liquids. Empty this in to a pit toilet (not a flush toilet) or RV Dump Station once down from the wall. Similarly, take GO-ANYWHERE (aka WAG) BAGS (1.5 bags / day per climber) - which come with TP, sanitizer and waste bag. These can be disposed of in trash bins and will degrade in the landfill. Make every effort to pee into a bottle carried on the climb for this purpose or reuse water bottles (marked accordingly). On 1-2 day routes either can be emptied into the Big Wall Can for secure transport.
Crag & Back Country Use - If you travel with a group and congregate in one area or site (guided climbers, river trips, trail crews, fire fighters, construction & utility workers) consider using a BWC for communal use. This should be one of the responsibilities of the guide, crew chief or supervisor. The BWC can be carried in hand, strapped to a pack or carried inside one.
Cleaning - After use, clean the Big Wall Can with a mild soap and water solution and a little bleach.

BIG WALL CAN $84.00
CLEAN WASTE GO-ANYWHERE BAGS $2.95 ea