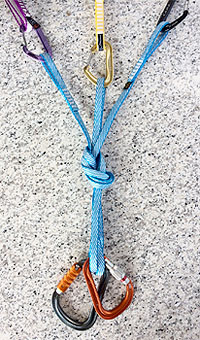 SuperTrad - 3 point gear config.
clip both master loops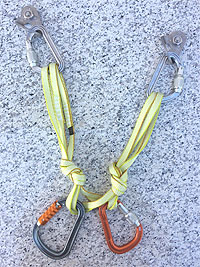 SuperTrad - 2 bolt quad config.
with 2 redundant master points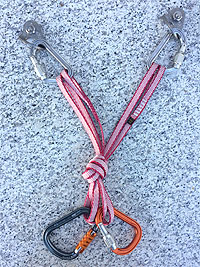 SuperTrad -2 bolt quad config.
single knot
with 3 master loops
(always clip at least 2 of the 3)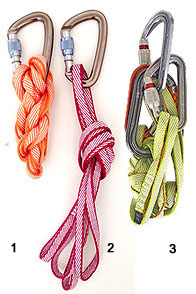 For compact racking:
1- clip eyes together, pass tail thru biner & twist like a kruller, then clip;
2- clip ends together, pass tail thru 'biner folding in thirds and tie or
3- keep QUADOLETTE rig intact & clip together.


MOUNTAIN TOOLS
WEBOLETTE

Simple, easy, secure. The WEBOLETTE is the original, easy to use equalizing anchor sling that loads multiple anchor points without risk of extension and shock loading remaining pro. If one piece "blows" the others are already tensioned and supporting the load. This provides greater peace of mind by meeting the SERENE criteria - Secure, Equalized, Redundant with No Extension.

We created a mnemonic - "V + W + 8 = On Belay!" to help remember the simple and easy steps to build (and verify) the best anchor possible. The WEB-O-LETTE is recommended for all types of climbing: Trad, Sport, Alpine and Expedtiion and all levels of experience. We make 3 sizes to adapt to any situation and suit every climber:

The Sport & Trad WEBOLETTE is the preferred way to anchor the rope and climbing team at bolted belay stations on sport climbs and classic "trade" routes. For a new twist - see the current popular "quad" (QUADOLETTE) rigging options at left in addition to the tried and true V-W-8 geometry. All options provide redundant master loops.
Our Super Trad model is best for reaching and gathering gear placements and combining their strength into one (or two - QUADOLETTE) focused & redundant master point - making it a solid "all around" choice.

Likewise the Big Wall & Alpine WEBOLETTE is the best tool for more complex anchors with more than 2 or 3 points, gear placed farther apart, lassoing large blocks or setting up and fixing the position of a top rope anchor's master point directly above the climber.

What we suggest: On multipitch sport routes: carry 2 (1 for each anchor). On long trad routes: 1 for ea anchor, 1 extra for use as giant runner (trees, boulders, big flakes) or for emergency use (see instructions). On big walls 4-5 are quite useful - for anchors, short lower outs, docking the haul bag and setting up "camp".
All are are light, strong, compact and easy to carry on harness or gear sling and less bulky and easier to unknot than the old school 7 or 8mm cordelette. instructions for use

strength: (eye to eye) 3000 lbf (13.5 kN); 3 point anchor configuration) min 4950 lbf (22 kN), max 5,800 lbf (25 kN); 2 bolt quad 4950 lbf (22kN), max 5800 lbf 25 kN); 2 bolt quad w single knot 4950 lbf (22 kN), max 5800 lbf 25 kN)
| | | | |
| --- | --- | --- | --- |
| model | wt | length | price |
| SPORT & TRAD | 73 gm, 2.6 oz | 10 ft | $26.95 |
| SUPER TRAD | 87 gm, 3 oz | 12 ft | $29.95 |
| BIG WALL & ALPINE | 100 gm, 3.5 oz | 14 ft | $32.95 |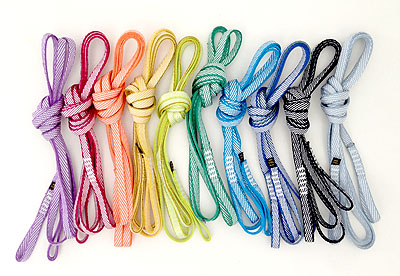 10 eye poppin' colors
Reviews . Web-o-What?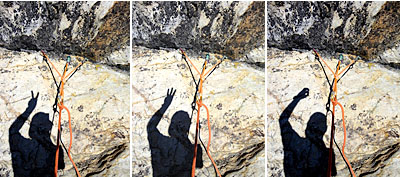 Teach your partners the "V + W + 8 = On Belay!"