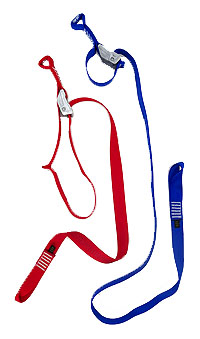 eazy adjust daisy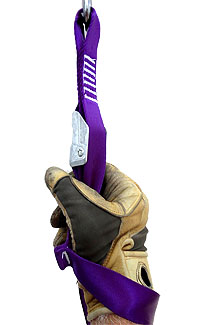 wrist support


MOUNTAIN TOOLS
LAZY DAZY
The LAZY DAZY is an adjustable daisy chain that provides more options & better efficiency for both leading and following aid pitches. It is also super easy to adjust your position while ascending and parked at each and every belay. On lead, plug a piece, then press the cam buckle to extend the the LAZY DAZY to make the clip! As you move up take in slack by pulling down on the big loop of web to hold you in close. To rest while sussing out the the next placement and moves, simply slip your wrist into the big loop and hang. When we streamline any rigging or repetitive motion on a big climb we save precious time and energy which translates to faster ascents. No more "cross clipping" worries inherent in traditional daisy chains. Single continuous tubular Climb Spec web design ups the overall strength and durability of our Lazy Dazy for multiple walls and adventures. 25% lighter weight other adjustable daisy chains.
Use in pairs. Made in California.

Note: Be sure to remain tied (to the rope) while ascending and maintain at least two separate connections to the rope while ascending or rappelling. While using your LAZY DAZYS never climb above an anchor or your attachment point and keep LAZY DAZYS taut to limit forces in case of a slip. Assorted two color combos for "right" and "left" use while ascending.
| | | | |
| --- | --- | --- | --- |
| buckle yield strength: 1500 lbf | | | |
| end strength: 3500 lbf | | | |
| length: 8"- 54", 137 cm | | | |
| color: red, blue, black, purple | 153 g | 5.4 oz | price: $24.95 |