ALIENS REVOs have narrower
heads, lighter weight and updated trigger & control wires for super smooth operation, shown with
double (extendable) sling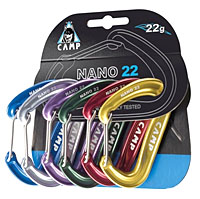 Get Camp NANO 22
Color Pak
for your ALIENS!
Replacement trigger kits for Aliens
Triggert Wire kits sold separately
for each size cam.
Please select your size below.
Trigger Sizes: $15.95 each

#401: Yellow, Grey, Red, Yellow/Red, Grey/Yellow, Grey/Red

#402: Blue, Green, Blue/Green

#403: Black/Blue

#404: Black

#405: Green/Yellow

Tools needed:
n eedle nose pliers, side cutters


TECHROCK
ALIEN REVO CAMS
ALIEN REVO CAMS are 20% narrower then their classic cousins and also the narrowest and lightest in their class - thanks to patented internal cam springs and spin riveted axles construction. This super compact design allows solid installation in the tightest of slots - to increase your placement options and also number. Experienced climbers know flexible single cable cams bend in all directions equally, can be snaked into irregular cracks, plugged into horizontal placements and also maintain their position by resisting rope drag. Notice the streamlined ergonomic trigger assembly and shaped cam control wires - for longevity. For aid or use with a quickdraw, keep it simple with the standard 11mm Dyneema sling. If you wish to save a biner and runner - choose the long ALIEN REVO EXTENDABLE SLINGS. Be sure to place your ALIENS (like all cams) at 50% closure - for maximum holding strength. Made in Spain.


ALIEN REVO
REGULAR SLINGS
set: #.33-1
set wt:
11.4 oz
price: $79.95 ea
set: $431.50 (save $48)
ALIEN REVO
EXTENDABLE SLINGS
set: #.33-1
set wt:
11.4 oz
price: $79.95 ea
set: $431.70 (save $48)
ALIEN REVO HYBRID
REGULAR SLINGS
set: #.33-1
set wt:
11.4 oz
price: $79.95 ea
set: $431.70 (save $48)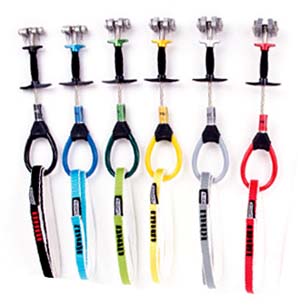 black, blue, green, yellow, gray, red
revos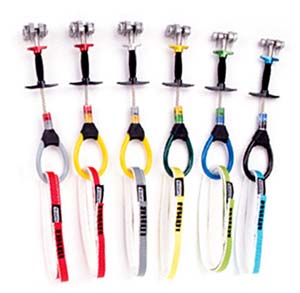 gry/red, yel/red, yel/gray, green/yel, blue/grn, blk/blu
revo hybrids
- (single slings)


no

size-range

wt

width

mfg max strength

color

$/sling

inches

gm

inches

mm

kN

lbf

reg/ext

.33

.33-.55

46

1.2

8-14

5

1125

black

$79.95

3/8

.39-.67

48

1.2

10-17

6

1350

blue

$79.95

1/2

.53-.86

52

1.2

13-22

7

1575

green

$79.95

3/4

.61-1.0

58

1.2

15-25

10

2250

yellow

$79.95

7/8

.68-1.2

59

1.2

17-30

10

2250

gray

$79.95

1

.78-1.3

61

1.2

20-33

10

2250

red

$79.95