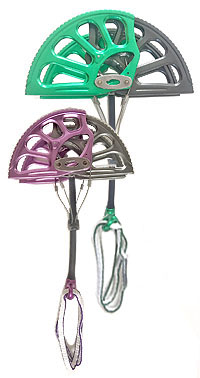 #7 & #8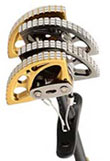 Triple Grip cam lobes for
greater contact, improved friction,
better security.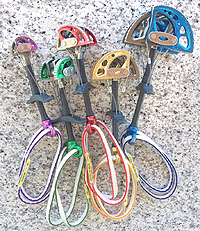 DRAGONS, DEMONS & TORQUE NUTS (8mm Dyneema)
By special agreement and support from DMM, MtnTools is equipped to replace your dated slings on Dragons, Demons & Torque Nuts with factory original material, dating and protective shrink tube. If you purchased these cams early on - now is the time to resling!


DMM
DRAGON CAMS

#7& #8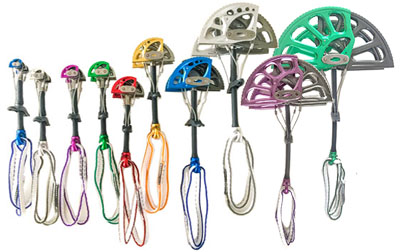 DMM DRAGON CAMS hold true to the double axle design with a proven 13.75 degree constant cam angle - best for increased range and holding power.
New are the "Triple Grip" cam lobes which are wider (up to 7mm) - for greater contact area - and also machined - to expose the higher friction raw metal and thus create many more "contact points" to engage with subtle, slippery or smooth rock features. They bite...but in a good way!
Count on even and firm trigger action to initiate the camming action of each DRAGON placement. The new textured and increased contact area also boosts resistance to "walking" - so your DRAGONS stay put - right where you place them.
Last but not least is the unique dual eye tail piece which provides a positive thumb rest and safe supportive "full strength" radius for the extendable 8 mm Dyneema sling - saving you weight, hassle and a quick draw with each and every placement.
Pair with the color andodized CHIMERA (below) or any other DMM biner for the ultimate trad set up. Colors match other manufacturers cams to integrate seamlessly with your existing rack! Made in Wales.
| | |
| --- | --- |
| wt: 1.25 kg / 2 lb 12 oz | |
| DRAGON set: #00 - 6 (8 pcs) | SET: $587.25 (SAVE $65) |
| DRAGON set: #7 & 8 (2 pcs) | SET: $219.90 (SAVE $25) |
| DRAGON set: #00 - 8 (10 pcs) | SET: $807.15 (SAVE $90) |


New DRAGON CAMS
no

size-range

size-range

wt

wt

width

strength

color

price

mm

inches

gm

oz

inches

kN

lbf

$

00

13-21

.51-.82

75

2.6

1.5

10

2025

blue

77.50

0

16-25

.62-.98

85

3.0

1.5

14

2700

silver

77.50

1

20-33

.79-1.30

103

3.6

1.75

14

3150

purple

77.50

2

24-41

.94-1.61

117

4.1

1.75

14

3150

green

79.95

3

29-50

1.14-2.04

128

4.5

1.87

14

3150

red

79.95

4

38-64

1.5-2.52

154

5.4

2.25

14

3150

gold

79.95

5

50-85

1.97-3.35

208

7.3

2.37

14

3150

blue

89.95

6

68-114

2.68-4.49

299

10.5

2.87

14

3150

silver

89.95

7

88-149

3.46-5.87

362

12.8

3.25

14

3150

purple

114.95

8

116-195

4.57-7.68

515

18.2

3.75

14

3150

green

129.95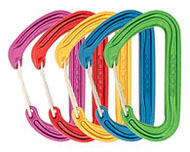 DMM CHIMERA CARABINERS
Sport, multi-pitch trad or super alpine climbers wanting to shed unnecessary weight will find CHIMERAS add a great boost to their climbing.
strength: 23 kN major, 7 kN minor, 9 kN open
dims: 90 mm (3.54") x 53 mm (2.06")
gate opening: 23 mm
CHIMERA RAINBOW 5 PACK
wt: 30g / 1.06 oz
price: $15.50, 10+ $13.95
5 pack: 1 each.
purple, red, gold, blue, green
price: $72.50 (SAVE $5)