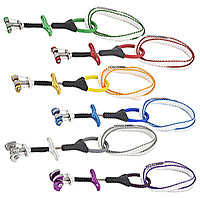 versatile protection for
narrow cracks & pockets
DRAGONS, DEMONS & TORQUE NUTS (8mm Dyneema)
By special agreement and support from DMM, MtnTools is equipped to replace your dated slings on Dragons, Demons & Torque Nuts with factory original material, dating and protective shrink tube. If you purchased these cams early on - now is the time to resling!



DMM
DRAGONFLY MICRO CAMS

DMM DRAGONFLYS hold true to the proven 13.75 degree constant cam angle - best balance of range and holding power.
"FLYS provide "injection protection" for both extremely narrow and shallow cracks and pockets. The size 1 DRAGONFLY is the smallest UIAA certified climbing cam - a great confidence builder when protection is thin and also limited. Color anodised cam lobes are machined and bead blasted for improved friction and placement security. Narrow head width and compact trigger allow the cams to be placed deep in small pockets and fissures. Extendable slings save a biner and quickdraw, lightening your rack. Made in Wales.
wt: 1.25 kg / 2 lb 12 oz
price: $79.95 ea
DRAGONFLY
set: #1 - 6 (6 pcs)
SET: $432.25 (SAVE $48)


New DRAGONFLY CAMS
no

size-range

size-range

wt

wt

width

strength

color

price

mm

inches

gm

oz

inch

kN

lbf

$

1

7.8-11

.31-.43

55

1.94

-

5

1125

green

79.95

2

8.7-12.9

.34-.51

56

1.97

-

6

1350

red

79.95

3

10.2-15.2

.40-.60

65

2.29

-

8

1800

gold

79.95

4

12.1-17.9

.48-.70

67

2.36

-

8

1800

blue

79.95

5

15.1-22.5

.59-.89

70

2.46

-

9

2025

silver

79.95

6

19-28.3

.75-1.11

73

2.57

-

9

2025

purple

79.95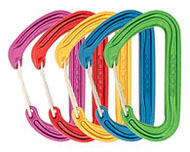 DMM CHIMERA CARABINERS
Sport, multi-pitch trad or super alpine climbers wanting to shed unnecessary weight will find CHIMERAS add a great boost to their climbing.
strength: 23 kN major, 7 kN minor, 9 kN open
dims: 90 mm (3.54") x 53 mm (2.06")
gate opening: 23 mm
wt: 30g / 1.06 oz
CHIMERA RAINBOW 5 PACK
1 each;
purple, red, gold, blue, green
price: $72.50 (SAVE $5)
Chimera - Gunmetal (to match #5)
price: $15.50 (SAVE 10% on any 10+)