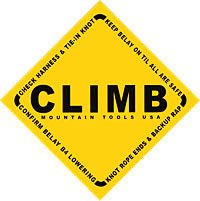 PASS THE STICKERS, PLEASE!

CHECK HARNESS & TIE IN KNOT
KEEP BELAY ON TIL ALL ARE SAFE
CONFIRM BELAY B4 LOWERING
KNOT ROPE ENDS & BACK UP RAP

Our sticker was inspired by reading about climbing accidents - many due to simple errors and omissions
that are repeated year after year. Our goal is to reduce the incidence of common and preventable accidents by offering a simple reminder to all climbers.

OUR CLIMB STICKER IS FREE and our goal is to see them displayed on helmets, water bottles, car windows, gear boxes and the like. Getting this message out will bring attention to basic tenets critical to safe climbing... and may just save someone from having a really bad day.

JOIN OUR CAMPAIGN to eliminate common accidents & injuries. Pass along a few Stickers - you are welcome to ask for more. Stickers are available to gym climbers, rock climbers, climbing clubs, climbing shops, guide services, outdoor programs, climbing gyms, and climbing gear manufacturers FREE of charge. Join our Campaign by sending us a SASE or ask that they be included with your next order.

WTH YOUR HELP, WE'VE DISTRIBUTED OVER 100,000 STICKERS from Thanksgiving 2012 through 2017. This demonstrated caring and increased awareness by our community is awesome. Tell your story - inspire others - get them to "sport" the CLIMB Sticker & in turn Pass The Stickers Please!

Thanks for your support!