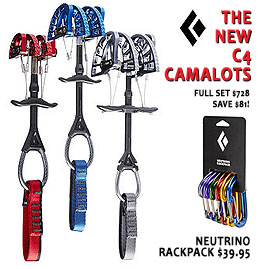 BLACK DIAMOND NEW C4 CAMALOTS New, redesigned Camalot C4 are now 10% lighter just as durable, with a wider trigger for easier handling. Double-axle design offers the widest range for each size. Order up a set and lighten your rack by a pound and a quarter. Pick up Neutrino Rackpacks for easy color coded racking.
Order 4 or more, mix & match, save 10% !
Full set/10: $728, save $81.00 !
Core set/7: $454, save $50.00 !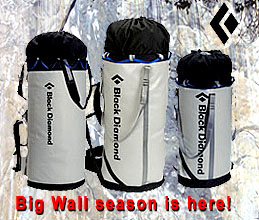 TOUCHSTONE, ZION & STUBBY
haul bags for your tall walls and difficult routes that may mean longer vertical vacations and of course more fun!. Get equipped with the ZION to hold, protect and haul your valuable cargo of water, food and survival gear as well as transport it comfortably to your chosen route.
price: $129 - $249.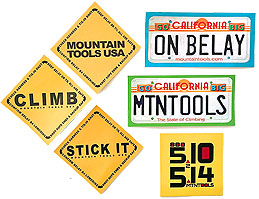 GET SOME FREE STICKERS WITH YOUR ORDER! Must mention at the time of order.


PAY NO MORE!
Mention a competing online offer by an authorized U.S. Dealer for in stock merchandise when you place your order so we can assure the lowest Sale Price. Provide the url for our confirmation in the Comments Box. Guaranteed!



DMM RESLING


By special agreement and support from DMM, MtnTools is equipped to replace your dated slings on Dragons, Demons & Torque Nuts with factory original material. If you purchased these cams when they were first introduced, now is the time to resling!


tECH tIP Here's how to rig a Tomahawk for placement in horizontal seams and pin scars. Racks better too.




SAVE BIG on rock shoes, approach shoes and mountain boots in select models & sizes. Deep discounts for style, color and model changes. Fit guarnanteed, performance assured. Hurry for best selection. Call for advice.
..........................................................................

WE SHIP WORLDWIDE

to APO & FPO and to your home or business via Priority Post and Federal Express - both traceable, insured and quick - usually 4-10 days ARO. If you, a friend or an associate is travelling to the US - we can delivery to your hotel, business, post office (Yosemite or anywhere). Click the Map for currency converter.


STAND WITH US!
Access to our public lands and historic climbing areas are threatened! Don't let Congress gut the Antiquites Act and
reduce National Monuments in SW Utah by 80%. Lend your voice and send a donation to the Access Fund in support of a multi -plantiff law suit filed by industry leaders and conservation groups.
...........................................................................
"Like" us on Facebook, post a climbing photo. We'll keep you up to date on NEW Products, Product Safety Advisories and Special Sale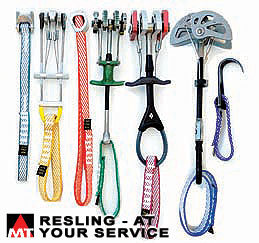 REPLACE YOUR SLINGS

with new easy-to-clip 12mm Dyneema-Nylon Ultratape™ or factory original 15 mm Nylon. Manufacturers recommend replacement after 5 years of regular use, a serious fall or visible signs of wear. Conform your rack to the current color scheme to match new cam purchases. ! Endorsed by CAMP, DMM, Trango & Wild Country and others! See RESLING page for details $5.00-18.95 ea
WARNING


The products we sell may contain one or more chemicals known to the State of California to cause cancer, birth defects or other reproductive harm.
See www.p65warnings.ca.gov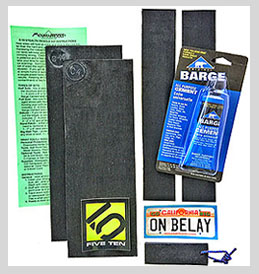 STEALTH C4 RUBBER RESOLE KITS

Restore the performance of your favorite shoes and maintain the fit and feel you've come to depend on. Five Ten Stealth rubber will improve the grip of any of your climbing or approach shoes. $17.95-$43.95 Made in CA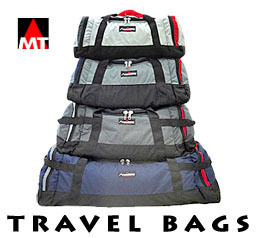 NO BAN ON TRAVEL HERE
Our luggage Is Built Climber Tough™ which doesn't mean a thing - until you need it to! Each size is named for the mission; One Night Stand, Weekend Warrior, Spring Break or World Tour. No matter what we'll get you there and back - in one piece.
Made in California.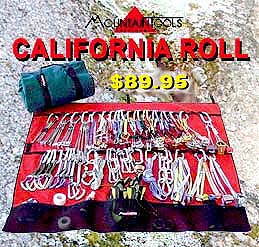 THE CALIFORNIA ROLL IS THE ultimate gear organizer. Keep track of your hardware investment and have all the gear you need to rack up - right at your finger tips. Carry from car to crag in your pack or by soft suitcase handles, unbuckle and roll out the tarp to easily choose pieces for the next pitch or route. Helps avoid leaving any gear behind! Get everything pictured - with the CALIFORNIA DREAM RACK!
$89.95 Made in California.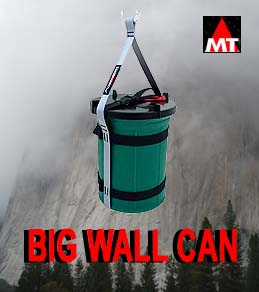 TRADITIONAL BIG WALL USE - Because Nature doesn't always schedule her calls... and you might not be hangin' out at the bivy or near a ledge, so you'll appreciate this simple solution. The BWC is washable and reusable as defined by the Bureau of Land Management, National Park Service and National Forest Service. $79 Made in USA.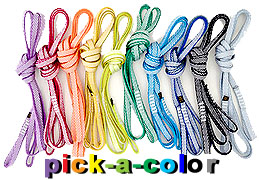 WEB-O-LETTE ANCHOR SLING!
One for each end of your rope.
Simple, easy, bombproof. The original, easy to use equalizing anchor sling - just remember "V + W + 8 = On Belay!"
Lighter & more compact than cord!
SPORT & TRAD 10 ft Ultratape - $26.95
SUPER TRAD 12 ft Ultratape - $29.95
BIG WALL 14 ft Utratape - $32.95
Made in California.