SAVE oN jANUARY ICE pACKAGES!
10% OFF a PAIR!
- swing some sweet new tools
15% OFF ICE PACKAGES!
- add some 'poons and save even more.
20% OFF SUPER ICE PACKAGES!
- pull the trigger, add 6 screws and go big!


MILLET LIMITED MXP - state-of-the-art in warmth and exepedition performance designed to keep you warm in the coldest and highest places on Earth.
Made in France & Viet Nam.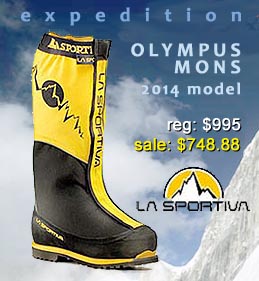 SPORTIVA OLYMPUS MONS
Keep your toes warm while visiting the highest and coldest places on earth! Color update affords SALE price on these pairs:
:42.5, 43.5, 45, 47 EU Same tried and tested construction and performance! $748.88 SAVE $246! Made in Italy.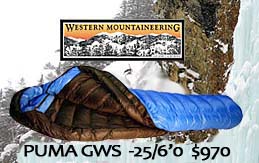 WESTERN MOUNTAINEERING
Beefy bag for 6000M peaks. All the critical features included; full zip, draft tube & full collar - you won't miss a thing except the extra bulk. Made in California.
Includes Storage & Stuff Sack, 6'6" $999



ALIEN REVO CAMS
Join the lightweight revolution. 20% lighter, smooth trigger action and comfortable rubber thumb pull for fast & easy placements.
set /6: $378, save $41 Made in Spain.


END OF SERIES - ORDER TODAY


SPORTIVA JECKYL Designed for comfort and performance. size: 41, 42.5, 43, 44.5, 45.5
$120/$84.88

SPORTIVA COBRA
Just the right balance of sensitivity and support
size: 39.5, 43, 43.5,44, 44.5
$120/$88.88

SPORTIVA TRANGO EVO Light, warm, technical and comfortable
size: 42.5, 45, 45.5 $420/$278.88
BOREAL KANGRI
Perfect for winter ice climbing, mixed alpine routes & expeditions. size: 9UK/9.5US $499/$248.88
.......................................................................


PAY NO MORE!
Mention a competing online offer by an authorized U.S. Dealer for in stock merchandise when you place your order so we can assure the lowest Sale Price. Please provide the url for our confirmation in the Comments Box. Guaranteed!

......................................................................

WE SHIP WORLDWIDE

to APO & FPO and to your home or business via Priority Post and Federal Express - both traceable, insured and quick - usually 4-10 days ARO. If you, a friend or an associate is travelling to the US - we can arrange delivery to hotel, business, post office (Yosemite or elsewhere). Click the Map for additional info, currency converter.



"Like" us on Facebook , post a climbing photo. We'll keep you up to date on NEW Products, Product Safety Advisories and Special Sales
XXX
XXXXXXX

XXXXXXX

REPLACE YOUR SLINGS with new easy-to-clip 12mm Dyneema-Nylon Ultratape™. Manufacturers recommend replacement after 5 years of regular use, a serious fall or visible signs of wear. Endorsed by CAMP, DMM, Trango & Wild Country and others! See RESLING page for details $5.50-10.95 ea
NO MORE COLD TOES
Our GAITERS are built burly for alpinists and expedition climbers. Boost the warmth of any single or double mountain boot with our Insulated SUPERGAITERS ($139.95). Don't need the heat? Check out our bombproof ALPINIST GAITERS - ($89.95) made burly to endure harsh conditions and rocky trails. Conical cut ballistic reinforcements & "crampon quality" neoprene-nylon strap under foot. Like all our stuff, made in USA.
MOUNTAIN TOOLS
VAPOR BARRIER SOCKS


Re-imagined and all-new design, materials and construction to perfect fit, reduce excess material and control slippage. Keep your thermal socks dry and increase foot warmth on your next winter trip, expedition, ice climb... and even soggy early season approaches. Made in California.
VBS $29.95, 2 prs $28 ea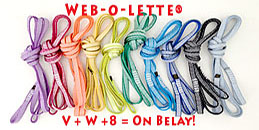 IMPROVE YOUR ANCHOR
Anchor Sling provides an elegant way to quickly set up your belay stance. Buy two, one for each end of the your rope. Rainbow colors. $24-32 Made in California