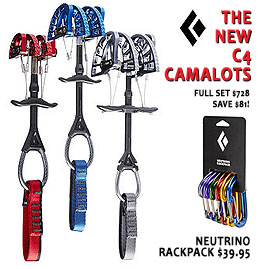 BLACK DIAMOND C4 CAMALOTS
February SPECIAL 25% OFF!
Hurry - while supply lasts!
Camalot C4 are 10% lighter just as durable, with a wider trigger for easier handling. Double-axle design offers the widest range for each size. Order up a set and lighten your rack by a pound and a quarter. Pick up Neutrino Rackpacks for easy color coded racking.


ICE TOOL SWINGERS:
Pick a PAIR, PACKAGE or better yet a SUPER Package and SAVE up to 20% off new Ice
Tools from Black Diamond, CAMP, DMM, SAVE 10% on a PAIR; add Crampons to boost your DISCOUNT to 15% or go "ALL IN" by including 5 ICE SCREWS or Boots for 20% off the bundle. Mix and match brands and models to suit your preference and style. Grab a pair of Petzl ERGOS (as shown above) for only $478.88 (SAVE $120). Advice based on our experience available for the asking.


TURN UP THE HEAT!
Western Mountaineering sleeping bags are simply the best! The -40 BISON is your full featured 4season, expedition bag. We stock the full range including Super Micro Fiber and Gore Dryloft bags for everything from balmy summer camping to frigid forays up Everest! All 850+ fill!
Made in California price: $1190.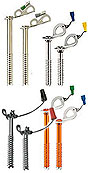 new ice screws You'll benefit from the latest geometry and ergonomics for faster placements, easier clipping and better holding strength. Start the season "sharp" with cutting teeth and threads in new condition. A small triangular chain saw file or better - the Petzl Lim'ice ($87.95) sharpener - will keep em that way. Ditto for ice picks.
SAVE 10% on 5 or more new screws!



PAY NO MORE!
Mention a competing online offer by an authorCandise when you place your order so we can assure the lowest Sale Price. Provide the url for our confirmation in the Comments Box. Guaranteed!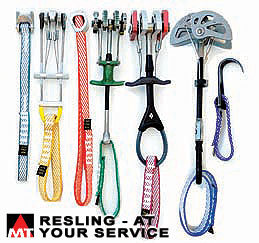 REPLACE YOUR SLINGS

with new easy-to-clip 12mm Dyneema-Nylon Ultratape™ or factory original 15 mm Nylon. Manufacturers recommend replacement after 5 years of regular use, a serious fall or visible signs of wear. Conform your rack to the current color scheme to match new cam purchases. ! Endorsed by CAMP, DMM, Trango & Wild Country and others! See RESLING page for details $5.00-18.95 ea

cLICK THE BANNER FOR AWESOME close-outs, one-of-a-kinds, style & color changes - in all categories: Avalanche, Ascenders, Belay Devices, all types of Boots, Carabiners, Camping Gear, Cookwear, Gaiters, Glasses, Harnesses, Ice Gear, Outerwear, Insulation, Packs, Rescue, Runners & 'Draws, Snow, Socks, Wall Gear, etc. - even your finicky climbing partner. ...........................................................................


cLICK ABOVE FOR GUARANTEED LOWEST PRICES on the best brands and models of technical footwear: one-of-a-kinds, style & color updates and discontinued models. Search for rock, approach, hike and mountain models and SAVE BIG BUCKS!.
..........................................................................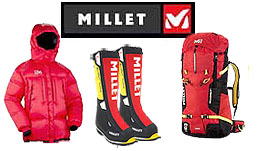 SAVE up to 70% on Closeouts from Millet: - Underwear, Softshell, Insulating Layers, Gore-Tex Outerwear, Sleeping Bags, Packs and more! SUPER LOW PRICES reflect limited sizing or availability - Hurry!
|..........................................................................




CUSTOMER SPRAY: "Thanks for answering all my questions" (Steve); Thanks for the communication, great work and fast turnaround" (Todd); "Packs that last thru 24 years of hard use... nobody else does that!" (Peter); "Extremely friendly customer service (Beth); "Hey Larry, me and the other Rangers love the Webolette" (Gannon); "I wouldn't buy rock shoes online from anyone else." (Bruce). THANKS TO OUR CUSTOMER FRIENDS WHO WE HAVE HAD THE PLEASURE TO SERVE OVER THE LAST 40 (that right) 40 YEARS! ..........................................................................




SAVE BIG on rock shoes, approach shoes and mountain boots in select models & sizes. Deep discounts for style, color and model changes. Fit guarnanteed, performance assured. Hurry for best selection. Call for advice.
..........................................................................

WE SHIP WORLDWIDE

to APO & FPO and to your home or business via Priority Post and Federal Express - both traceable, insured and quick - usually 4-10 days ARO. If you, a friend or an associate is travelling to the US - we can delivery to your hotel, business, post office (Yosemite or anywhere). Click the Map for currency converter.


STAND WITH US!
Access to our public lands and historic climbing areas are threatened! Don't let Congress gut the Antiquites Act and
reduce National Monuments in SW Utah by 80%. Lend your voice and send a donation to the Access Fund in support of a multi -plantiff law suit filed by industry leaders and conservation groups.
...........................................................................
"Like" us on Facebook, post a climbing photo. We'll keep you up to date on NEW Products, Product Safety Advisories and Special Sale
WARNING


The products we sell may contain one or more chemicals known to the State of California to cause cancer, birth defects or other reproductive harm.
See www.p65warnings.ca.gov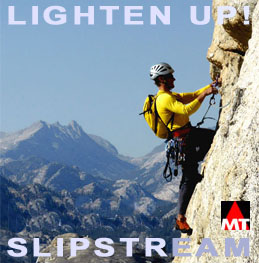 SLIPSTREAM ALPINE & ICE PACK

Weighing in at 300 grams (about the same as 6 average sized carabiners) you'll want to wear your SLIPSTREAM everywhere. Sized for personal support gear (puffy, extra gloves / mitts, headlamp, hydration and energy food) - so each partner has instant access to neccessities at every belay. Lead or follow - the SlipStream's got your back! Click for current colors, Regular ($139) and Tall ($149) sizes available. See Special Offer below!
Crafted in California.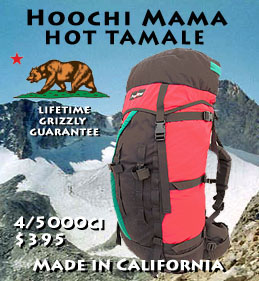 MAKE WEIGHT DISAPPEAR!
Afford yourself our finest Flexframe mountaineering pack - THE HOT TAMALE. Our design goal was to to make 50 lbs feel more like 30 and therefore allow you to climb in balance and with less effort. Our Flexframe bends and twists like your spine and rib cage whlle swinging tools or stretching for a hold and has built in memory to return to anatomically correct neutral shape - all the while protecting your back from hard, sharp or odd shaped objects. Bonus: Get a SLIPSTREAM ($139-$149) half price with your Tamale.... Guacamole extra.
Made in California.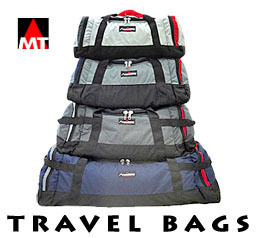 OUR LUGGAGE IS BUILT CLIMBER TOUGHT™ which doesn't mean a thing - until you need it to! Each size is named for the mission; One Night Stand, Weekend Warrior, Spring Break or World Tour. No matter what we'll get you there and back - in one piece.
Made in California.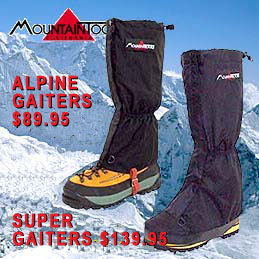 SEAL OUT THE WEATHER WITH BOTH OUR ALPINIST AND SUPER GAITERS
Choose either the super durable waterproof and breathable ALPINE GAITERS for all around use... or crank up the heat with our fully insulated SUPERGAITERS that feature 5.10 Stealth Rubber Rands and Ballistic Nylon reinforced panels to keep snow and wet from touching your boot uppers. Sized to fit single and double mountaineering and ice climbing boots. Made in USA.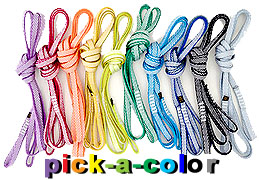 WEB-O-LETTE ANCHOR SLING!
One for each end of your rope.
Simple, easy, bombproof. The original, easy to use equalizing anchor sling - just remember "V + W + 8 = On Belay!"
Lighter & more compact than cord!
SPORT & TRAD 10 ft Ultratape - $26.95
SUPER TRAD 12 ft Ultratape - $29.95
BIG WALL 14 ft Utratape - $32.95
Made in California.