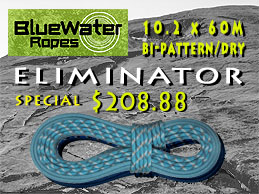 BLUEWATER 10.2 ELIMINATOR
Delivers performance for trad & sport climbers pushing hard and taking multiple falls. Get your dry-bi 10.2x60M, equipped with our Mountain Tools Cordura Rope Bag.
reg: $260.00, SALE $208.88, Made in USA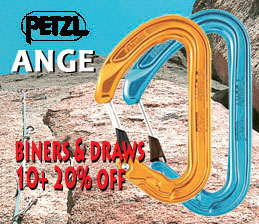 PETZL ANGE CARABINERS & QUICKDRAWS
Being skinny has advantages - less chance of gate "flutter" during a fall or the possibility of catching on rock or hardware and "opening" unexpectedly. Plus the ANGE MonoFil is the only wire gate that utilizes a compression spring for consistent feel and long life. sale $9.85-$23.35 Made in France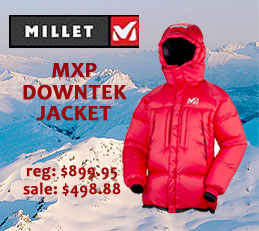 MILLET MXP DOWNTEK
State-of-the-art in warmth and expedition performance. Turn the warmth waay up - for expeditions to 8,000 meter peaks. Baffled Pertex Endurance shell locks in the heat, sheds moisture and also breathes well - to keep you dry, warm and comfortable.
MXP DOWNTEK JACKET
reg: $899.95, SALE $498.88, limited stock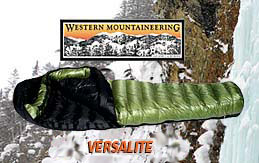 WESTERN MOUNTAINEERING
One of our favorite sleeping bags for "up high" 3 season + camping. Fabric is highly breathable and treated to shed wind, dew and incidental spills or condensation in your tent or bivy. 10 deg F rating is conservative. Includes Storage & Stuff Sack.
6'0" $575, 6"6" $590 Crafted in California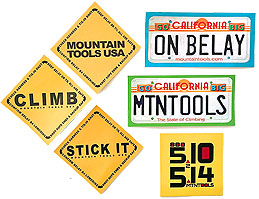 FREE STICKERS GO BIG!
NEW ON BELAY & MTNTOOLS CALIFORNIA - THE STATE OF CLIMBING - plus
our popular SAFETY REMINDER STICKERS:
CHECK HARNESS & TIE IN KNOT
KEEP BELAY ON TIL ALL ARE SAFE
CONFIRM BELAY B4 LOWERING
KNOT ROPE ENDS & BACK UP RAP



SAVE 25% iN STOCK MODELS -
THRU cYBER mONDAY - 11/30TH

Boreal, Five Ten, LaSportiva, Scarpa;
Call for best selection and sizing advice.
....................................................................

30%-70% OFF our SHOE-A-PALOOZA, (end of series, sytle change, color change - while they last).
xxxxxxxxxxxxxxxxxxxxx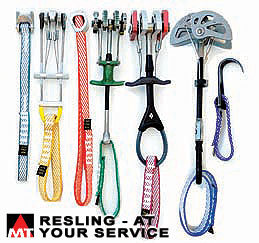 REPLACE YOUR SLINGS
with new easy-to-clip 12mm Dyneema-Nylon Ultratape™ or factory original 15 mm Nylon. Manufacturers recommend replacement after 5 years of regular use, a serious fall or visible signs of wear. Customize your rack with colored slings! Endorsed by CAMP, DMM, Trango & Wild Country and others! See RESLING page for details $5.00-10.95 ea
....................................................................

WE SHIP WORLDWIDE

to APO & FPO and to your home or business via Priority Post and Federal Express - both traceable, insured and quick - usually 4-10 days ARO. If you, a friend or an associate is travelling to the US - we can arrange delivery to hotel, business, post office (Yosemite or elsewhere). Click the Map for additional info, currency converter.


"Like" us on Facebook, post a climbing photo. We'll keep you up to date on NEW Products, Product Safety Advisories and Special Sale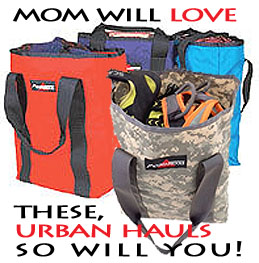 SAVE A TREE!


These "shopping bags" are built to the same specs as our packs and travel luggage - from beefy 1000 denier coated Cordura Plus. Stash a few in the car... takes up the slack for brief case overflow, extra gear, ropes, tire chains... you get the picture.
reg: $33.95 ea, Family of 4 $124
Made in California.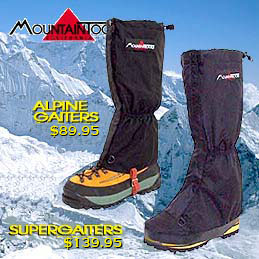 NO MORE COLD TOES
Our GAITERS are built burly for alpinists and expedition climbers. Boost the warmth of any single or double mountain boot with our Insulated SUPERGAITERS ($139.95). Don't need the heat? Check out our bombproof ALPINIST GAITERS - ($89.95) made burly to endure harsh conditions and rocky trails. Conical cut ballistic reinforcements & "crampon quality" neoprene-nylon strap under foot. Like all our stuff, made in USA.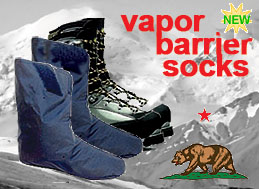 MOUNTAIN TOOLS
VAPOR BARRIER SOCKS

Re-imagined and all-new design, materials and construction to perfect fit, reduce excess material and control slippage. Keep your thermal socks dry and increase foot warmth on your next winter trip, expedition, ice climb... and even soggy early season approaches. Made in California.
VBS $29.95, 2 prs $28 ea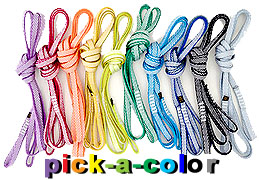 WEB-O-LETTE ANCHOR SLING!


October Special - Buy 1 WEB-O-LETTE
& get the 2nd at 1/2 price!
One for each end of your rope.
Simple, easy, bombproof. The original, easy to use equalizing anchor sling - just remember "V + W + 8 = On Belay!"
Lighter & more compact than cord!
$23.95-$31.95 Made in California.