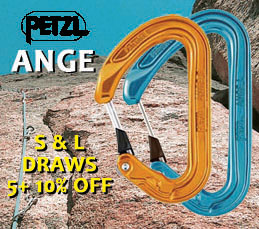 PETZL ANGE CARABINERS & QUICKDRAWS
Being skinny has advantages - less chance of gate "flutter" during a fall or the possibility of catching on rock or hardware and "opening" unexpectedly. Plus the ANGE MonoFil is the only wire gate that utilizes a compression spring for consistent feel and long life. EXTRA SPECIAL OFFER -
5+ SAVE 15% thru 9/5! Made in France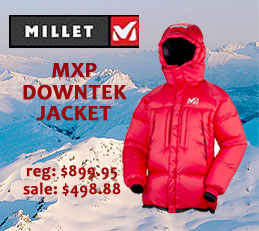 MILLET MXP DOWNTEK
State-of-the-art in warmth and expedition performance. Turn the warmth waay up - for expeditions to 8,000 meter peaks. Baffled Pertex Endurance shell locks in the heat, sheds moisture and also breathes well - to keep you dry, warm and comfortable.
MXP DOWNTEK JACKET
reg: $899.95, SALE $498.88, limited stock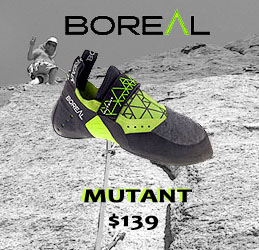 BOREAL MUTANT
The MUTANT boosts your edging power yet remains sensitive in the center for better smearing and knob climbing. This is a shoe that you can wear continuously for bouldering sessions, sport pitches and all day trad climbing fun. Made in Spain $139.00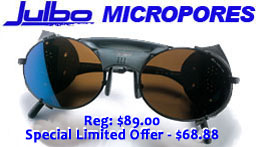 JULBO MICROPORE
The traditional glacier glass has been teched up with an air induction bridge and side vents for fog resistant performance and stylish good looks. Made in France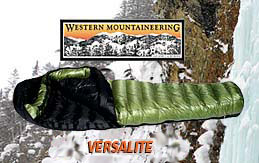 WESTERN MOUNTAINEERING
One of our favorite sleeping bags for "up high" 3 season + camping. Fabric is highly breathable and treated to shed wind, dew and incidental spills or condensation in your tent or bivy. 10 deg F rating is conservative. Includes Storage & Stuff Sack.
6'0" $575, 6"6" $590 Crafted in California


DEALS RARELY SEEN THIS SIDE OF THE MOON - THRU 9/5

15% OFF individual prices for Orders $100 or more. Including Mountain Tools Jet, SlipStream & Flexframe Packs & Luggage!



20% OFF any 1 single item, plus 20% OFF any quantity of 'biners.
Rack up SAVINGS!



25% OFF any 5 SLCDs (Spring Loaded Camming Devices). Fill in, mix & match or go Ultralight!



30% OFF any regular priced, in stock -
Rock Shoes and
Mountain Boots



30%-50% OFF Millet Brand products. Outerwear, Packs, Sleeping Bags, Boots.



30%-60% OFF our SALE page, plus an EXTRA 10% OFF thru 9/5! Shop here for a deal of the century!



30%-70% OFF our SHOE-A-PALOOZA, (end of series, sytle change, color change - while they last).
xxxxxxxxxxxxxxxxxxxxx Fit Guaranteed!



WEBOLETTES: Buy 1, get the 2nd at 1/2 price - one for each end of the rope. Lighter, more xxxxxxxxxxxxxxxxxxxx compact than cord!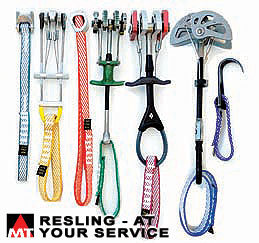 REPLACE YOUR SLINGS
with new easy-to-clip 12mm Dyneema-Nylon Ultratape™ or factory original 15 mm Nylon. Manufacturers recommend replacement after 5 years of regular use, a serious fall or visible signs of wear. Customize your rack with colored slings! Endorsed by CAMP, DMM, Trango & Wild Country and others! See RESLING page for details $5.00-10.95 ea
....................................................................

WE SHIP WORLDWIDE

to APO & FPO and to your home or business via Priority Post and Federal Express - both traceable, insured and quick - usually 4-10 days ARO. If you, a friend or an associate is travelling to the US - we can arrange delivery to hotel, business, post office (Yosemite or elsewhere). Click the Map for additional info, currency converter.


"Like" us on Facebook, post a climbing photo. We'll keep you up to date on NEW Products, Product Safety Advisories and Special Sale
.....................................................................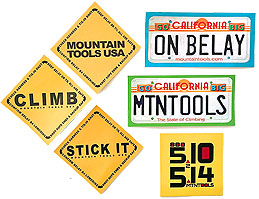 FREE STICKERS GO BIG!
NEW ON BELAY & MTNTOOLS CALIFORNIA - THE STATE OF CLIMBING - plus
our popular SAFETY REMINDER STICKERS:
CHECK HARNESS & TIE IN KNOT
KEEP BELAY ON TIL ALL ARE SAFE
CONFIRM BELAY B4 LOWERING
KNOT ROPE ENDS & BACK UP RAP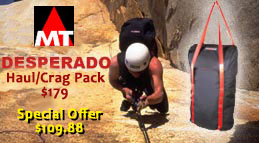 MY FAVORITE CRAG PACK!


Well suited for a massive Creek rack, 70 meter rope and all your personal gear. Flake your rope in the bottom and your ready to fire the first pitch! The DESPERADO is designed for a comfortable carry but easily converts for hauling. Equipped with padded top pocket, tuck away shoulder straps, removable waist belt and back pads that can be repositioned to protect contents while hauling. Get after it! DESPERADO reg: $179 - thru 9/21- $109.88

THE CALIFORNIA ROLL IS THE ultimate gear organizer. Keep track of your hardware investment and have all the gear you need to rack up - right at your finger tips. Carry from car to crag in your pack or by soft suitcase handles, unbuckle and roll out the tarp to easily choose pieces for the next pitch or route. Helps avoid leaving any gear behind! Get everything pictured - with the CALIFORNIA DREAM RACK!
$89.95 Made in California.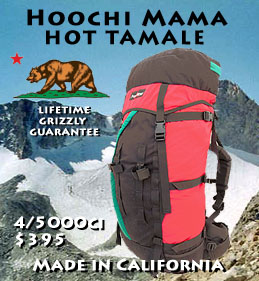 SAY BUENO TO yOUR NEW FRIEND!
Whether you're humpin' loads to high camp or swinging tools on lead, the FlexFrame HOT TAMALE will shadow your every move. 3D Contour Curve harness is infinately adjustable for a perfect fit & feather-light Flexframe provides incredible support while bending and twisting - just like your spine and rib cage. $395 Made in California with our Lifetime Grizzly Guarantee