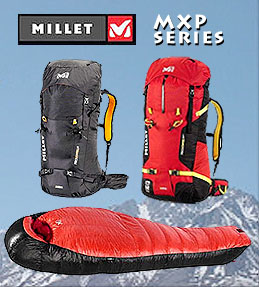 SAVE 10% on a 2 ITEM COMBO
MILLET LIMITED MXP - state-of-the-art in warmth and exepedition performance by employing never heard of before materials like Aerogel non-compressive insulation - designed to keep you warm in the coldest and highest places on Earth.
Made in France & Viet Nam.
SAVE 10% on a 2 ITEM COMBO
or w/ EVEREST BOOT ORDER!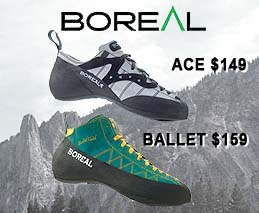 BOREAL ACE & BALLET
Absolutely Classic! Both ACE and BALLET GOLD are comfortable, supportive all around performance shoes that have more combined history than any other model we offer.. BALLETS sport full rands and mid high ankle protection for foot and fist cracks. ACE delivers same exact fit and dime-nickel-quarter edging capability. Both climb "heel up" putting you closer to the next holds.
Made in Spain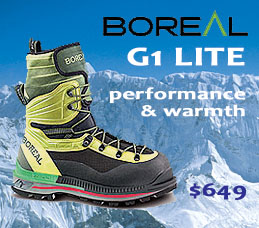 BOREAL G1 LITE DOUBLE BOOTS Your toes will be toasty warm and dry thanks to the form fitting, G1 LITE that gives you climbing performance plus plenty of versatility for day outings and technical routes. Very stable platform for ice climbing, and is super comfortable for expeditions.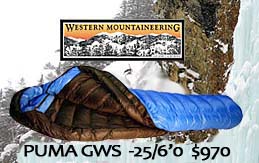 WESTERN MOUNTAINEERING
Beefy bag for 6000M peaks. All the critical features included; full zip, draft tube & full collar - you won't miss a thing except the extra bulk. Made in California.
Includes Storage & Stuff Sack, 6'0" $970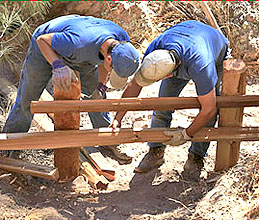 *** LAST CHANCE *** JOIN US OCT 21-23 FOR THE PCAD! Register by 19 Oct for FREE Park Entrance, Camping & BBQ. Come help us celebrate the Park Services Centennial and 100 Years of Climbing. Purchase RAFFLE Tickets and participate in the AUCTION to win prizes - donated by every major climbing equipment manufacturer! You could win a new rope, rock shoes, pack or other gear! Make new friends, learn new skills and help your climbing community care for access paths and staging areas at your favorite crags. Climb with your buddies Sunday!



KEEP YOUR NEW ROPE CLEAN and ready to charge the next lead. Built from 500d Cordura and sized to hold your harness and a dozen draws! $29.95 FREE ROPE BAG with every dynamic rope purchase - Beal, Bluewater, Mammut, Petzl, Sterling!
........................................................................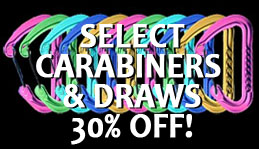 UPDATE YOUR RACk! Spring has sprung and we're all getting after some new climbs. Equip yourself with some fresh clips to add to your psych while saving a bundle!.... quantities are limited...so hurry... CLICK HERE -HURRY!
........................................................................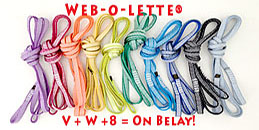 IMPROVE YOUR ANCHOR
Anchor Sling provides an elegant way to quickly
set up your belay stance. Buy two, one for each
end of the your rope. Rainbow colors. $24-32
Made in California
......................................................................


CAMP PHOTON WIREGATE
Grab a handfull. Outfit your draws. Color code your cams. Go crazy! The PHOTON is full sized but half the weight of a standard oval - great for trad, ice and all of us who want a roomy 'biner without the weight penalty. $7.95 ea $7.15 (10 or more) plus 8 PHOTON Color Pack for $59.95
.......................................................................


WE SHIP WORLDWIDE
to APO & FPO and to your home or business via Priority Post and Federal Express - both traceable, insured and quick - usually 4-10 days ARO. If you, a friend or an associate is travelling to the US - we can arrange delivery to hotel, business, post office (Yosemite or elsewhere). Click the Map for additional info, currency converter.




"Like" us on Facebook , post a climbing photo. We'll keep you up
to date on NEW Products, Safety Advisories and Special Sales




REPLACE YOUR SLINGS with new Dyneema-Nylon Ultratape™. Manufacturers recommend replacement after 5 years of regular use, a serious fall or visible signs of wear
SHAVE WEIGHT, BOOST POWER!


The SlipStream is realistically the lightest practical weight for a high performance climbing pack - 280 grams - lighter than 6 'biners... all without skimping on size or weather proofness. This alpine, ice and expedition pack fits like your skin and is best for all balance sports - including back country skiing, trail running and mountain biking. Try one - if its not the best in class... we'll come get it! Made in California.
BORN IN YOSEMITE!

Our SPEED SLING is the original multi-loop trad climbers gear sling and best for swappin' leads and saving time on long routes and at each belay. Rack your nuts and cams by size - and wear right or left depending on the next pitches requirements. Rack your draws and runners on harness or keep your waist and hips free to friction against a corner or squeeze into a offwidth or chimney.
SAVE this month. Made in CA.
CLIMB SMARTER W/ LESS EFFORT
Take advantage of increased efficiency and better positioning for both leading and following. LAZY DAZYs are super easy to adjust, provide a "wRest" loop and crafted from continuous Climb Spec web with 3500 lbf end strength - to eliminate any separation anxiety. Great cleaning & positioning sling for sport routes too! $22.95 ea / use in pairs. See CLIMBING #334 for a very nice review. Made in California - GRIZZLY GUARANTEE!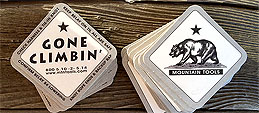 PUT YOUR BREW ON BELAY!
Impress your climbing friends with a set of our new Coasters - a reminder of the LIfetime Grizzly Guarantee on Mountain Tools labelled products and some simple Safety Reminders on the flip side. Order often and share with your partners - let them know where to shop! FREE with ORDER


INSPECT YOUR GEAR!
Upon receipt of new gear and before each days climbing, always take a close look at every piece of climbing gear: helmet, harness, rope, 'biners, runners and protection. Verify that it is assembled correctly, operates smoothly and is free of dents, dings, cuts or burns (helmets, runners, rope). If you ever question any piece of equipment, set it aside and consider retiring and destroying it.