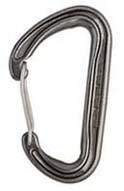 PHANTOM QUICKDRAW SETS are lighter then a standard oval carabiner!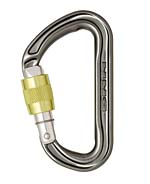 PHANTOM SCREWGATE keylock - extra security with minimum weight.


DMM PHANTOM
CARABINER & QUICKDRAWS
The PHANTOM is made possible by DMM's choice of specialized 7010 alloy and hot forging process - that combined creates a strong I Beam design weighing in at only 26 grams (.8994 oz).
Hot forging allows manufacture of more radical shapes and details - like the bump inside the bottom basket that serves to guide the rope towards the corner and away from the gate opening. Bearing radiuses can also be similarly enlarged and made more rope and runner friendly. Subtle double reverse bend to wire gate makes clipping the rope or a sling super easy. Sport, multi-pitch trad or super alpine climbers wanting to shed unnecessary weight will find PHANTOMS a great boost to their climbing.
Available individually, as a key lock SCREWGATE and also with 10 mm Gripper Dyneema Quickdraw Slings - to hold the anodized bottom biner steady while you make the clip and also prevent the carabiner from cross-loading when loaded. Titan andodized option color codes the rope clipping PHANTOMS and adds smart looks and extra corrosion resistance.
strength: 23 kN major, 9 kN open, 7 kN minor width: 9.0 mm
dims: 90 mm (3.54") x 52 mm (2.05") gate opening: 20 mm
PHANTOM CARABINER
wt: 26 g / 0.8994 oz
price: $9.50 10+ $8.55
PHANTOM ANODISED
(Titan color - shown)
wt: 26 g / 0.8994 oz
price: $9.50, 10+ $8.55
PHANTOM RAINBOW 5 PACK
1 ea red, pur, grn, gold, blue
price: $42.50, 10+ $38.25
PHANTOM DRAW 12 cm
wt: 57 g / 2.1 oz
price: $19.95, 10+ $17.95
PHANTOM DRAW 18 cm
wt: 59 g / 2.2 oz
price: $20.95, 10+ $18.85
PHANTOM SCREWGATE
wt: 43 g / 1.5 oz
price: $13.95, 10+ $12.55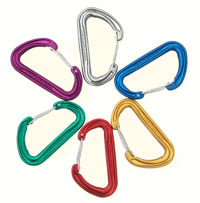 color code your cams!