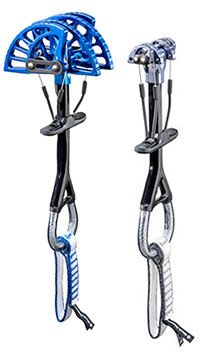 easy grab thumb-loop
can be clipped directly too!



CAM RESLING SERVICEa
4cams,


BLACK DIAMOND
CAMALOT ULTRALIGHT
The CAMALOT ULTRALIGHT design shaves 25% off the weight of is closest cousin - the ever popular CAMALOT C4. Notice the refined and sculpted lobes and the clear tube thumb loop that protects the first ever Dyneema cord "frame". Dyneema is strong and tough and this new design incorporates a specially formed continuous loop that encircles the ULTRALIGHTS machined cross bar in place of the C4's heavier metal cable and blocky aluminum head piece. Like all double-axle designs the CAMALOT ULTRALIGHTS provide the widest placement range possible for each size. Upgrades include a 14 mm Dyneema sling, optimized trigger, lighter guage and covered control wires, improved thumb loop and ergonomics. Colors jive with all other BD gear. Made in USA. Shipped everywhere.


| | | |
| --- | --- | --- |
| full set: #0.4 - 4 | wt: 1.06 kg / 2 lb 6 oz | price: $737.65 (save $82) |
| individual: #0.4, 0.5 | price: $ 99.95 | each |
| individual: #.75, 1 | price: $109.95 | each |
| individual: #2 | price: $119.95 | each |
| individual: #3, 4 | price: $129.95 | price: $149.95 |
| mix & match | order any 5 cams | TAKE 10% OFF! |


no

size-range

size-range

wt

width

strength

color

price

inches

millimeters

gm

inches

kN

lbf

0.4

.61-1.04

15.5-26.7

61

2.18

8

1798

gray

99.95

0.5

.77-1.32

19.6-33.5

74

2.37

10

2248

purple

99.95

0.75

.94-1.62

23.9-41.2

189

2.50

12

2698

green

109.95

1

1.19-2.05

30.2-52.1

101

2.75

12

2698

red

109.95

2

1.46-2.55

37.2-64.9

126

2.75

12

2698

yellow

119.95

3

2.00-3.46

50.7-87.9

167

3.25

12

2698

blue

129.95

4

2.60-4.51

66.0-114.7

225

3.40

12

2698

gray

149.95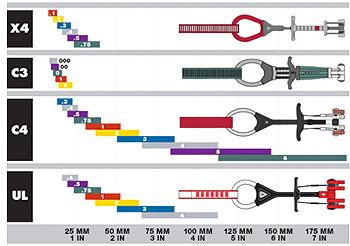 cam range comparison