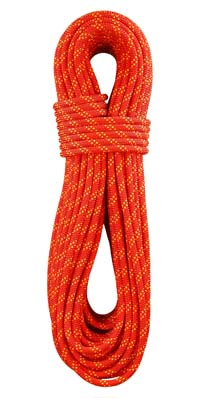 BLUEWATER
9.5 MM haul line (STATIC)
Finally a rope made specifically for the task - with a nice diameter to efficiently pass through progress capture pulleys (like the Pro Traxion, Roll Block) and also every popular pulley and ascender combo. Outer sheath is stout 32 carrier polyester with double twist for best wear and low stretch. Core is nylon cable constructed for good handling, low stretch and high strength. This translates to high efficiency (ie input = output) for your hauling efforts and less "bounce" while ascending. Also see the 10 mm BIG WALL for extra heavy loads and harsh enviroments. Made in the USA.
Combine with any Bluewater Dynamic rope and take 10% off both!
| | | |
| --- | --- | --- |
| color: red | strength: 5000 lbf | safe working load: 333 lbs |
| length: 60M | wt: 8.95 lbs / 4.07 kg | price: $197 |
| length: 70M | wt: 10.44 lbs / 4.75 kg | price: $229 |