SUPER LIGHT - CLEAN WIRE DESIGN
Radical deep forged construction for greater strength & significant weight savings and the unique hooded Clean-Wire Gate is totally snag free! Made in the U.K.
Red or Silver: $13.50ea, 10+$12.15
Wire Draw-10cm: $26.95ea, 10+ $24.90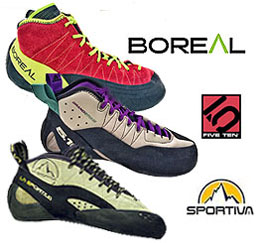 CLIMB ALL DAY LONG
Three versatile rock shoes that give you all day comfort and support for those long summer climbs.
Boreal BALLET $149
5.10 GRANDSTONE $180
La Sportiva TC Pro $190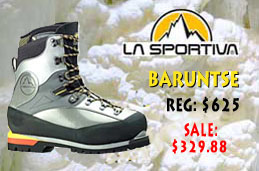 LA SPORTIVA BARUNTSE
Our most popular and versatile double boot will climb anything your heart desires. Take a pair on your next winter camping trip, to the ice park to swing some tools or on a multi-week expedition to your next six thousander. Fully waterproof, insulated inner bootie and Vibram Montagne sole. Sizing true, Fit Guaranteed. Reg: $625 End of Series Your price: $389.88 -(save $235)! / HURRY!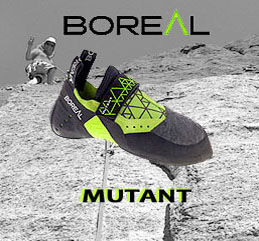 BOREAL MUTANT-
Soft, sensitive and comfortable shoe that excels on all types of terrain. This is a shoe that you can wear continuously for bouldering sessions, sport pitches and all day trad climbing fun. . Made in Spain
reg: $139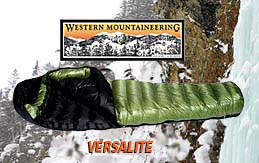 WESTERN MOUNTAINEERING
Definitely one of our favorite sleeping bags for 3 season adventures. Fabric is highly breathable and treated to shed wind, dew and incidental spills or condensation in your tent or bivy. 10 deg F rating is conservative. Includes Storage & Stuff Sack.
Made in California
reg: 6'0 $605, long: 6'6" $620



CLICK ABOVE FOR GUARANTEED LOWEST PRICES on the best brands and models of technical footwear: one-of-a-kinds, style & color updates and discontinued models. Search for rock, approach, hike and mountain models and SAVE BIG BUCKS!.
Click for Comprehensive FOOTWEAR SALE List
...................................


SAVE BIG ON CLOSE
OUTS AND
ONE-OF-KINDS, style & color changes - in all categories: Avalanche, Ascenders, Belay Devices, all types of Boots, Carabiners, Camping Gear, Cookwear, Gaiters, Glasses, Harnesses, Ice Gear, Outerwear, Insulation, Packs, Rescue, Runners & 'Draws, Snow, Socks, Wall Gear, etc. - even your finicky climbing partner.
.......................................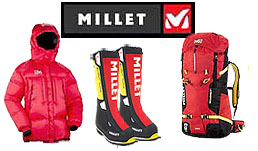 SAVE up to 70% on Closeouts from Millet: Underwear, Softshell, Insulating Layers, Gore-Tex Outerwear, Sleeping Bags, Packs and more! SUPER LOW PRICES reflect limited sizing and availability - HURRY!
.................................



CUSTOMER SPRAY: "Thanks for answering all my questions" (Steve); Thanks for the communication, great work and fast turnaround" (Todd); "Packs that last thru 24 years of hard use... nobody else does that!" (Peter); "Extremely friendly customer service (Beth); "Hey Larry, me and the other Rangers love the Webolette" (Gannon); "I wouldn't buy rock shoes online from anyone else." (Bruce). THANKS TO OUR CUSTOMER FRIENDS WHO WE HAVE HAD THE PLEASURE TO SERVE OVER THE LAST 40 (that right) 40 YEARS! .........................................

WE SHIP WORLDWIDE

to APO & FPO and to your home or business via Priority Post and Federal Express - both traceable, insured and quick - usually 4-10 days ARO. If you, a friend or an associate is travelling to the US - we can delivery to your hotel, business, post office (Yosemite or anywhere). Click the Map for currency converter.


STAND WITH US!
Access to our public lands and historic climbing areas are threatened! Don't let Congress gut the Antiquites Act and
reduce National Monuments in SW Utah by 80%. Lend your voice and send a donation to the Access Fund in support of a multi -plantiff law suit filed by industry leaders and conservation groups.
.........................................
"Like" us on Facebook, post a climbing photo. We'll keep you up to date on NEW Products, Product Safety Advisories and Special Sale
WARNING


The products we sell may contain one or more chemicals known to the State of California to cause cancer, birth defects or other reproductive harm.
See www.p65warnings.ca.gov

PAY NO MORE!
Mention a competing online offer when you place your order so we can assure the lowest sale price. Provide the url for our confirmation in the "Comments Box". Guaranteed!


TRADITIONAL GEAR SLING
The SPEED SLING keeps your wired nuts, hexes and cams well sorted in dedicated loop "compartments" - just like on your harness. This spreads the load and keeps gear from "bunching up" or "sloshing" around... you get the picture.

Made in California.

price: $32.95
price: $34 ea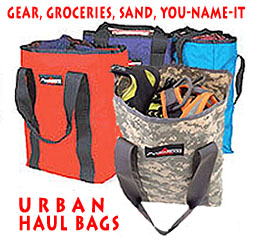 THESE SHOPPING BAGS ARE
built to the same specs as our packs and travel luggage. Shoulder / carry handles cradle your load and make "saving a tree" easy. Stash a few in the car and you'll be ready to put up with anything the box boy dishes out. Use for harness and shoes, top rope belays (right out of the bag). Takes up the slack for brief case overflow, extra gear, ropes, tire chains... you get the picture.

Made in California.


price: $34 ea
Family of 4 $124.95 (SAVE $11)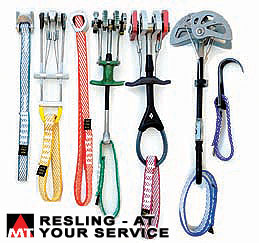 NOW'S THE TIME TO REPLACE YOUR OLD TIRED SLINGS

with new easy-to-clip 12mm Dyneema-Nylon Ultratape™ or factory original 15 mm Nylon. Manufacturers recommend replacement after 5 years of regular use, a serious fall or visible signs of wear. Conform your rack to the current color scheme to match new cam purchases. ! Endorsed by CAMP, DMM, Trango & Wild Country and others! See RESLING page for details $5.00-18.95 ea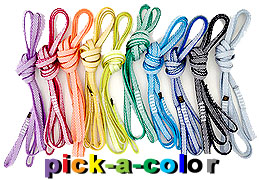 WEB-O-LETTE ANCHOR SLING!
One for each end of your rope.
Simple, easy, bombproof. The original, easy to use equalizing anchor sling - just remember "V + W + 8 = On Belay!"
Lighter & more compact than cord!
SPORT & TRAD 10 ft Ultratape - $26.95
SUPER TRAD 12 ft Ultratape - $29.95
BIG WALL 14 ft Utratape - $32.95
Made in California.